When most people think about things that may help relieve anxiety, it usually has something to do with the senses of sight, touch or sound. Maybe you think of something like getting a soothing massage or watching the first snowfall of the year.
While it may seem unlikely if you're not familiar with aromatherapy, your sense of smell can actually have quite a dramatic effect on your overall anxiety levels.
The concept of utilizing particular scents to relax and relieve stress is referred to as aromatherapy, and it has been shown to work well for most people. There are a wide variety of natural essential oils with different scents that you can use in aromatherapy, all of which will have their own unique effects in the system.
Some essential oils are good for helping you relax, while others might invigorate you and help you become more focused so you can get more work done.
By addressing different areas of your life with aromatherapy, you can use these scents to help to keep your anxiety at bay.
Best Scents for Anxiety Relief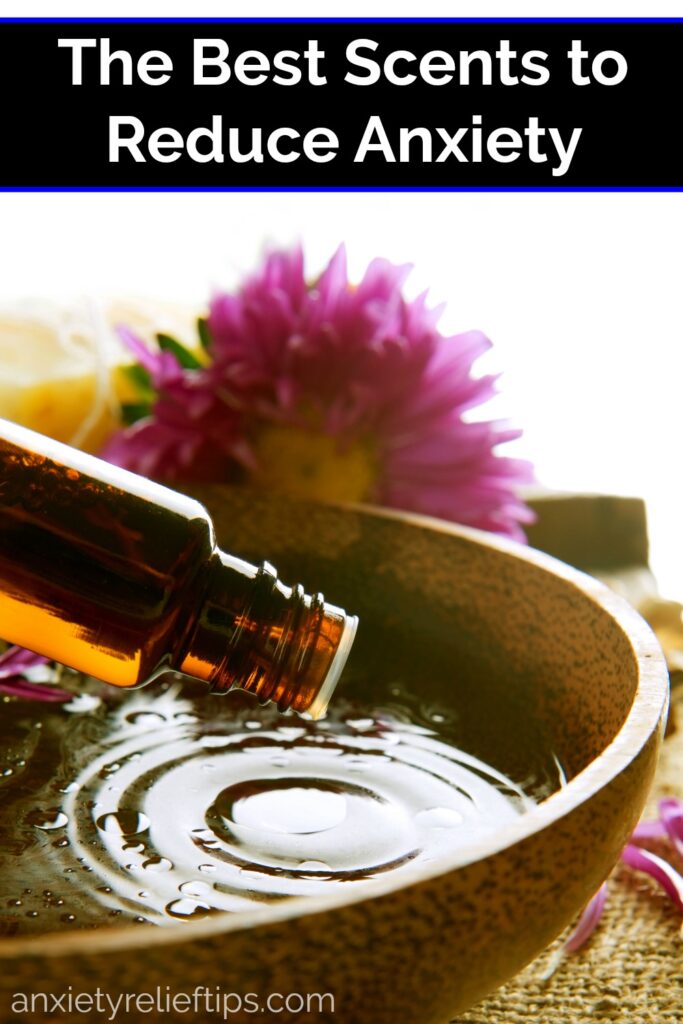 When It's Time to Relax
If you're stressed out and anxious because you've had an exceptionally long day and you just need to sit back, relax and unwind, then lavender oil might be a good scent for you to try out.
While the scent of lavender can help make you feel less stressed out, it will also help you sleep more restfully, so you shouldn't use lavender if you are in the middle of a long day or you're about to face one. Otherwise, you may find yourself sleepy on the job, while driving or another very unsafe time for you to fall asleep. 
Reduce Anxiety without Inducing Sleep
If you find yourself feeling super anxious and you can't risk being sleepy because you're still smack dab in the middle of your crazy day, then you can use rosemary essential oil instead.
The scent of rosemary also helps to lower your levels of cortisol, but you don't have to worry about making you tired. Instead, it helps to boost you energy and clarity levels so you can get through your day.
Don't have (or like) rosemary? Lemon essential oil can have a very similar effect on your mood. It's super energizing.
Need to Be More Productive?
When you're feeling anxious, productivity is often a victim. Then you may become more stressed because you're not working as efficiently as you know you're able to.
If that's the case, the scent of peppermint essential oil might help a lot. Peppermint has been shown to make you more alert and productive, which can be a great aid when you find yourself dragging through your day, not getting enough work done. 
Pair peppermint with rosemary for a super combination. It'll make you more alert, productive and enhance your memory at the same tiem.
Cinnamon oil can also have a similar type of effect for some people. If you're not a fan of the smell of cinnamon, it wouldn't have the stress and anxiety relieving effects on you that it may have on another person. A
How to Use Scents for Anxiety
Aromatic
There are different ways you can use scents for anxiety. One way most people like is to use an essential oil diffuser. This fills the air in your room with a lovely scented mist.
You can also wear an essential oil diffuser necklace. They make some really pretty ones that allow you to have your own mini diffuser with you all day long.
Topical
You can also use these scents topically so that you can take the scent with you. Just make sure you are diluting essential oils safely so that you don't have a reaction.
As you get to know essential oils and scents, you'll learn that different scents can and do often have different effects on different people, so it may take some trial and error time to figure out which scents work best for you.
Keeping trying different scents for anxiety if these don't work for you. Sometimes it takes combining more than one scent to get the effect you desire. Once you find something that works for you, make sure you always have it on hand.
What other scents for anxiety do you like?